Schools
I grew up in the US Air Force & lived all over the world. I attended Kindergarten at Clark Air Base in the Philippines and Louisiana. First & second grades in Louisiana, then the summer of 1966 in Tuscon, Arizona. We moved to Hahn Air Base, Germany where I attended 3rd through 6th grades. The next move took me to Victorville, CA where I went to Hook Jr. High School for the 7th grade through part of the 9th grade. I completed the rest of the 9th grade at Cherry Creek High School in Denver, CO. Then on to Ft. Walton Beach, FL where I finished high school as a "Big Green Indian" at Choctawhatchee High School, Bicentennial Class of 1976. After that I attended a smattering of college courses at Okaloosa-Walton Junior College in Niceville, FL. OWJC has changed its name several times since then – I refuse to try to keep up with the names. Hey, at least I update the link every few years. I also attended Fresno Community College in Fresno, CA. I couldn't seem to keep enough motivation to finish college with any kind of degree.
---
Jobs
I joined the work-force in 1975 as a busboy at Eglin Officers Open Mess in Florida. I became a waiter at Sandestin Resort near Destin, FL. I continued in the food service for a total of 12 years & worked at The Sound and Holiday Inn in Ft. Walton Beach before moving to Fresno, CA. The first job I got in Fresno was at the county hospital (still in food service). Then I went back to gourmet restaurant work at the Wee Capri. The last job I held in Fresno was as a hotel clerk/night auditor at the Travelers Inn.
During this time in Fresno, I honed my skills in my calligraphy hobby. Enough so that I ended up getting a business license and began charging for the work. At some point, it became just that – work – and I lost interest in it.
I got tired of all the unskilled labor jobs & decided to do something different. I joined the Navy. I knew that I would finish whatever school they sent me to. One just doesn't skip military classes. This also resulted in quite a cut in pay.
---
Navy

The Navy trained me as an Electronics Technician specializing in maintaining and repairing satellite communication computer systems and tranceivers (NAVMACS, DAMA, WSC-3, etc...), the main-frame shipboard computer system (SNAP II) and its terminals and peripherals, and personal computers. Actually, ETs fixed anything remotely involving electronics.
---
USS LaSalle AGF-3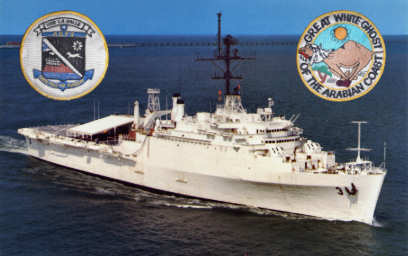 My first ship was the command ship in the Arabian Sea (aka Persian Gulf), the USS LaSalle (AGF 3). The LaSalle was the platform for COMIDEASTFOR during my tour. She was known as "The Great White Ghost of the Arabian Coast" because she was the only white USN ship. She was painted white to help reflect the heat. The LaSalle was homeported in Philadelphia while I was aboard, though she hadn't been there for a decade or two.
I reported on board during the Iran-Iraq conflict, just a couple of weeks after Iraq attacked the USS Stark. We were involved in capturing an Iranian ship, Iran AJR, that was laying mines directly in the LaSalle's area of operation. Their crew, living and dead, were brought onboard and held as "detainees." The LaSalle was in the international news quite a lot while I was on board, though the US news agencies didn't cover much. My best source for news were the rows of teletypes in the hotels in Manama, Bahrain.
We crossed the equator on our way to Yokusuka, Japan for an overhaul period. Naturally, as a slimy pollywog I participated in the "Crossing the Line" ceremonies and faced Davy Jones and the rest of King Neptune's Court. Fortunately, I was found to be qualified and was initiated into the Solemn Mysteries of the Ancient Order of Shellbacks.
USS LaSalle was decommisioned in 2005 and sunk as a target in 2007 after serving more than 43 years.
---
USS Kinkaid DD-965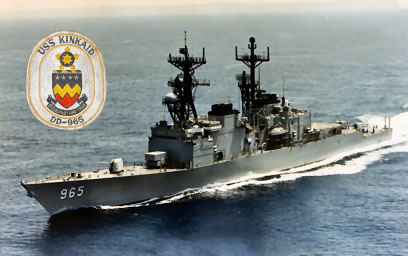 My next tour of duty was aboard the USS Kinkaid (DD 965), a Spruance class destroyer. The Kinkaid went right back to the Gulf and participated in the "Persian Gulf Escort Service" escorting oil tankers through the Straits of Hormuz. When our tour was finally over we started our trip back to San Diego. We stopped in Sri-Lanka and in Phuket, Thailand for some great liberty. On our way to Hong Kong, we collided with the M/V Kota Petani and a tragic sea story was written. We never saw Hong Kong.
We crossed the equator again, but this time, as a Trusty Shellback, I was on the giving end of the initiation! :)
USS Kinkaid was decommisioned in 2003 and sunk as a target in 2004 after serving less than 27 years.
---
Shore Intermediate Maintenance Activity (SIMA), San Diego
My last tour in the Navy was on shore duty at SIMA, San Diego repairing all kinds of test equipment such as O-scopes, frequency counters, spectrum analysers, all sorts of meters, and so on. This was a whole new work experience for me. It was the first job in my life that actually had a 5-day, 40-hour work week. I had never experienced so much free time!
It didn't last long. While on the Kinkaid, I bought an Amiga A2500 computer. Multimedia wasn't a word yet, but I made 2D & 3D animations and played with sounds and music on this miraculous machine. I used these to enhance my home videos...
---
Post Navy
...A friend was inspired by this little hobby and started a company in his garage while we were both on shore duty. When he showed me his garage my eyes popped open. He had three '486 computers working on animation and graphics! This sucked me right in - this was my hobby after all. The company started making animations for corporate videos and before long grew into a full production studio and stage, Emerald Studios, Inc. (ESi).
ESi housed the largest independent stage in the San Diego area. We created 3D animations for commercials and documentaries, shot commercials and other projects on film and video, did lots of video editing, created skads of multimedia CD-ROMs, and more.
ESi closed its doors in 1998 after 7 or 8 hard working, fun-filled years.
---
From 1998 through June 2008 I was involved in creating interactive multimedia content at W.V.H., Inc. in San Diego, CA. We created training CD-ROMs, DVD-ROMs and multimedia Web sites for major insurance/financial companies. These projects contain lots of great information for both the agents using them and their potential customers. They typically contain up to 45 minutes of video and several narrated sections, to name just a couple of things.
---
In June of 2017, I accepted a position as a board member and Webmaster for Naturist-Christians.org. The site is a tad plain thus far, but the forum is very active with discussions of Christianity and naturism. The discussions range from simple humor to trip reports to answering common (and uncommon) questions about nudism/naturism to in depth discussions of scripture and more. I am humbled by the knowledge and experience of the members there. The forum and photo galleries are very well moderated and family-friendly.
---
I haven't tried to get a job since 2008. I really should, but this funemployment is pretty darned fun! Instead, I go fishing when I can, do a little wood working, and may start up my old photo hobby again.