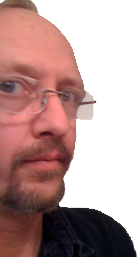 Mark A. Boyd
My first selfie from a mobile device – taken from my first generation iPhone on February 23, 2008 – before I ever heard of a selfie.
I'm the Mark Boyd who used to live in Shalimar, FL* and graduated from Choctawhatchee High School in 1976. At this site you will find a brief history of my life. It shows some schools I've attended and jobs I've held. There is also a page where I describe some of my past hobbies. From the history page there is a sea story describing a rather eventful deployment on the USS Kinkaid (DD-965).
I have a few of my photographs uploaded with slide-show scripts on the photos page. I suppose I'll add to them from time to time. As always, you can check for updates on the What's New page.
While several friends have known this about me, I decided to "come out" as a nudist/naturist. Part of that means that I mentioned it on Facebook and wrote my nudist story on my Naturism page. If you are not offended by the sight of one of God's creations in a natural state, you can see some nude pictures and videos on my Naturist Photos page.
I put up a new weather station (after lightning destroyed my previous one) in January of 2016. This station is much better than the old one and reports to Weather Underground. Now I can see the conditions at my house when ever I am in range of the Internet!
*I moved back to Shalimar in 2009. Actually, I live in an unincorporated community in Okaloosa County. We use the Shalimar Post Office and Zip Code.